Page 3 of 3
He who is coming after me is mightier than I, and am not fit to remove His sandals; He will baptize you with the Holy Spirit and fire.
– Matthew 3:11-12
Frances left the Sisters of the Good Shepherd for these reasons. The Sisters could not speak highly enough of her; they would have been only too happy if God had destined her for their Community. They gave a fine recommendation.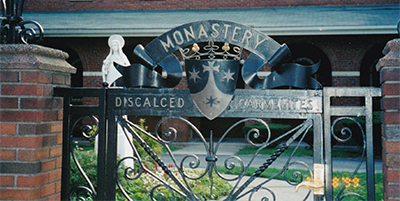 On December 8" 1960, she entered the Carmel of Schenectady and embraced all aspects of the life with great enthusiasm. She maintained sufficient health for the postulancy and novitiate. However; after Profession, she began to suffer from a circulatory ailment which, little by little withdrew her from Community activities. By the time of her death, she lived in almost complete solitude, a life style that corresponded with her inner attraction to the eremitical life.
Although her health was poor, the coming of the Angel of Death was swift and unexpected. On the morning of December 5th, Sister Christine did not answer the signal for rising. It was discovered that her bed had not been touched and a light was burning in an outdoor hermitage. To our shock and dismay, we found her on the floor of the hermitage, comatose and icy cold. The initial diagnosis was hypothermia (her body temperature was 80°), but by 8:00 PM. a hemorrhage in the brain was discovered and immediate surgery was performed to release pressure. However; Sister Christine never regained consciousness and Our Lord came for her on Tuesday, December 16 at 9:30 PM. She had just passed the twentieth anniversary of her entrance into Carmel.
The funeral was on Friday, December 19 and after the Liturgy, Sister Christine was laid to rest in the Monastery Crypt.